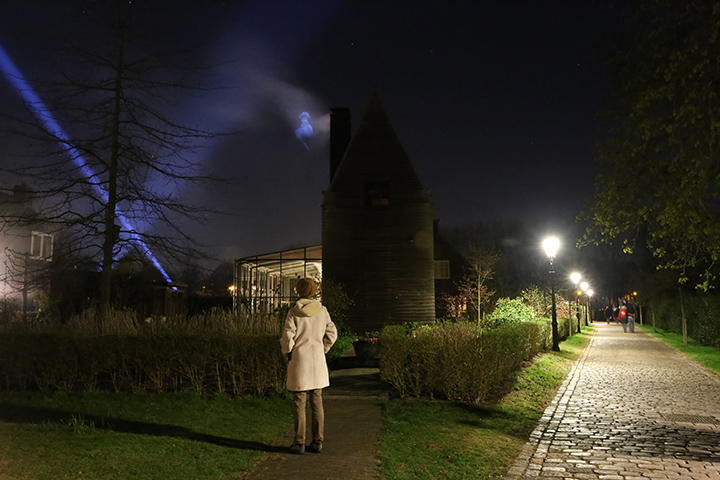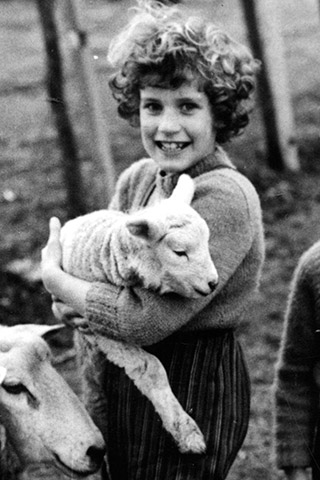 Childhood photo of Truus
Living near the fortress
In times that fortresses in the Netherlands were still operational, the houses in the first ring outside the fort were made of wood. If any war situation would arise, these houses could soon be demolished or burned down, so that the defenders had an overview of the surrounding area. What impact would it have on residents if, for the sake of defending the country, their own home should be set on fire? Fortunately this situation never occured in Blauwkapel, and the history has actually turned to the exact opposite: in 2003, in the center of the township a meadow turned into the spot of a new built wooden house, inspired by the history of the forts.

Truus, a girl who grew up in the 60s right across the street, used to pet her father's sheep in that pasture. Her father photographed her when she held a lamb in her arms. Meanwhile, the girl is in her fifties, and the grass has given way to habitation.

The artist André Pielage breathes new life into the history of the Dutch Water Line, and Fort Blauwkapel in particular. From the birthplace of Truus (even to be found in eighteenth-century prints the oldest house in Blauwkapel) her childhood picture is projected. Above the roof of the wooden house (the newest house of the hamlet) her portrait lights up in the smoke coming from the chimney. The movement of the smoke seems to revive the frozen memory, but it also makes you aware of the risks of living around the fort in earlier times.
André Pielage | Singel 116, 3112 GT Schiedam | 06 - 13 95 80 75