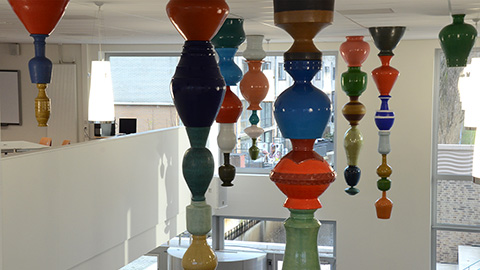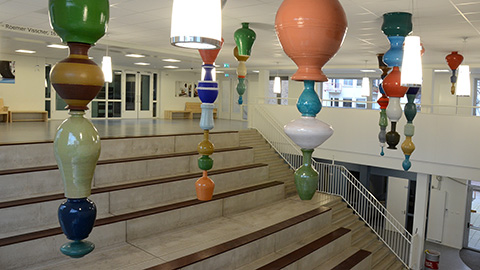 Earth work
The entry of the Roemer Visscher College in The Hague is characterized by an impressive staircase, used as an amphitheater but also as a lunch spot. The students of the typical craft school are the middle class of later. They are the hands of society and will soon have a large share in keeping the economic engine of the country running.
I depicted the craft as well as the rich cultural backgrounds of the students from this colorful neighborhood of The Hague, by making jugs and vases in a traditional way and then stringing them together like beads on a cord. "Connoisseurs will recognize the origins of all corners of the world in the various ceramic shapes."
Strung like this, they hang above the stairs like stalactites. In a transferable sense, it is also about the fact that these people have a hands on mentality, which in dutch is expressed by 'having ones feet in the clay'.

André Pielage | Singel 116, 3112 GT Schiedam | 06 - 13 95 80 75